23rd March- News & Current Affairs Update
Editorial Team
23-03-2016
NATIONAL
The HCU authorities on Wednesday prevented JNU student leader Kanhaiya Kumar from entering the campus to address the students agitating over the suicide of Dalit scholar Rohith Vemula.
DMDK founder Vijayakanth on Wednesday aligned with Vaiko-led People's Welfare Front with the actor-turned-politician being declared as the chief ministerial candidate of the alliance
The principal of Fergusson College, who had asked the police to take action against those who "raised anti-national slogans" subsequently, retracted his statement, saying he only sought a probe.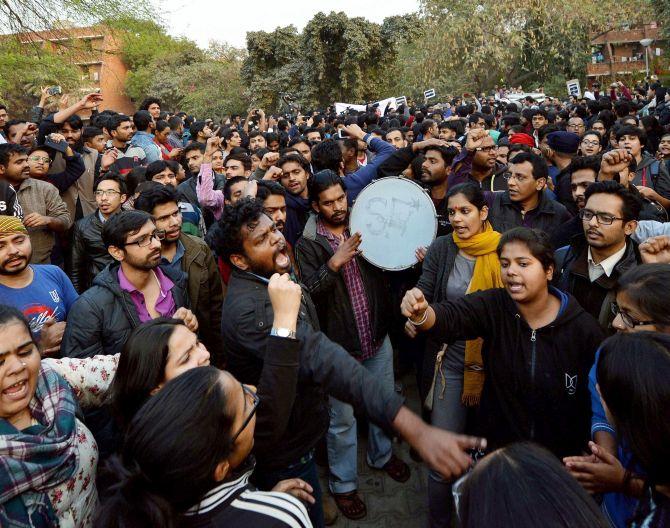 INTERNATIONAL
Republican Donald Trump and Democrat Hillary Clinton on Wednesday won in Arizona presidential primaries but both lost out in Utah to Ted Cruz and Bernie Sanders respectively.
Belgian prosecutors have identified two brothers of Belgian nationality, Khalid and Brahim el-Bakraoui, for being responsible for yesterday's suicide bombings at the airport and Metro substation. A third suspect, who died at the airport, is identified as Najim Laachraoui.
Citing Brussels bombings, Poland has abandoned its pledge to shelter Syrian migrants under a European Union relocation agreement.
Nigerien President Mahamadou Issoufou has won re-election in a second round of voting, receiving 92 percent of the vote in an election that was boycotted by the opposition.
Voters in Senegal approve a series of constitutional reforms, which include a reduction of presidential terms from seven to five years, with 63 percent of the vote.
SPORTS
India beat Bangladesh by 1 run in the World T20 to keep its Semifinals hope alive. Scores, India 146/7 (Raina 30) Bangladesh 145/9(Tamim Iqbal 35)
England beat Afghanistan by 15 runs in the World T20 to stay in contention for the Semifinals . Scores, England 142/7 (Moin ali 48) Bangladesh 127/9(Shafiqullah 35)
World No 1 Novak Djokovic has apologised for his comments suggesting tennis's top men should get paid more than women after he drew criticism from current and former players.
ECONOMY & BUSINESS
World Bank has agreed to extend $1.5 bn support to Swachh Bharat Mission which has been approved by the Govt of India.