Colombia Govt and FARC announce justice deal
BBC:
23-09-2015
Colombia's president and the leader of the Farc rebel group have announced a deal on setting up special courts to try crimes committed during more than five decades of conflict. They also announced the creation of a truth commission and an amnesty law.
President Juan Manuel Santos and Rodrigo Londono, known as Timoleon Jimenez or Timochenko, met in Havana.The agreement is seen as a major breakthrough after nearly three years of peace talks hosted by Cuba.The Colombian leader said he had agreed with Timochenko that a final peace accord would be signed within six months.
"On 23 March 2016 we will be bidding farewell to the longest-running conflict of the Americas," he said.
Under the deal signed on Wednesday combatants will be covered by an amnesty law, except those who have committed war crimes and human-rights violations.Negotiators from the government and the Farc, Colombia's largest rebel group, have already reached agreement on land reform, political participation and illegal drugs.
Colombia's armed conflict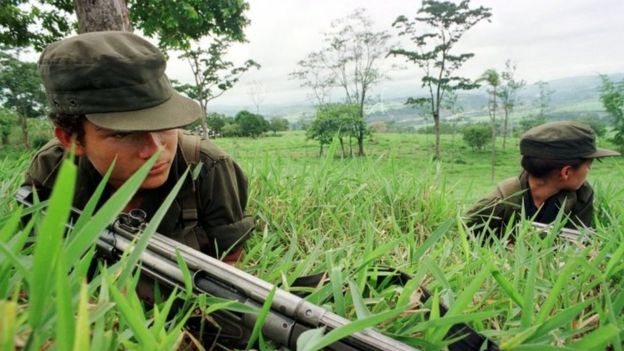 Image copyright AFP Image caption Farc rebels have been fighting the government since 1964
•An estimated 220,000 killed
•More than five million internally displaced
•More than seven million registered victims
•About 8,000 Farc rebels continue fighting
The peace process
November 2012 - Formal peace talks begin in the Cuban capital Havana between the Colombian government and the Farc.
May 2013 - A deal is reached on land reform, one of the most contentious issues. It calls for fair access to land, and rural development, two key causes of the conflict.
November 2013 - The two sides agree on the political participation of the Farc should a peace deal be reached.
May 2014 - Both parties pledge to eliminate all illicit drug production in Colombia.
December 2014 - Farc declares a unilateral ceasefire.
March 2015 - Both sides agree to work together to remove landmines. Colombia is one of the most heavily mined countries in the world.
April 2015 - Government resumes air strikes after the Farc kills 11 soldiers in ambush.
May 2015 - Farc suspends its unilateral ceasefire after government military operation kills 26 rebel fighters.
July 2015 - Farc declares one-month ceasefire
August 2015 - Farc extends ceasefire without specifying for how long
September 2015 - Both sides announce agreement on the issue of transitional justice