DIY Crafts For Adults
Pooja Reddy/Unbound:
23-10-2015
Great crafts and DIY ideas made mostly from your general household projects are a great way not only to engage yourself in creative activities but also it helps in relieving stress. Not just that you can make very pretty useful items for yourself and others. Everything here works and at cost very low.
We picked out 8 DIY crafts which you can try without much effort.
1.Lollipop Stand:
There are many kinds of DIY lollipop stands but for starters we have a simple,quick and an inexpensive one.All you need is a StyroFoam,adhesive spray and glitter spray. Take the StyroFoam and cut it in your desired shape say e.g..,circle. Now spray the adhesive liberally on the top and sides of the foam.Then immediately spray the glitter all over and let it dry. Dust off the excess glitter and its ready to use. Use it to hold lolli pops or cake pops, it's gonna draw attention.
2.Tea Cup candles:
Do you have any old tea cups lying around your house ? Then pick them up immediately because we have the most beautiful idea for you. Tie a wick to a stick on one side and a small weight on the other and place it in the cup with the weight on the bottom,make sure that the wick is straight. Melt some wax and fill it upto 3/4th of the cup and let it cool. Scrap off any excess wax from the corners of the cup and carefully untie the wick from the stick and trim the wick to about 1/2 inch. You now have your own DIY tea cup candle's ready.
3.Winecork Key chains:
Are you bored of using the same old store bought key chains. Here is an excellent idea for handmade keychains with the supplies available at your house. Use a winecork and a loop screw. Push the loop screw into the winecork on one side making a deep hole and make sure that the screw is intact in place. You now just have to add the chain ring now and your very own made Wine Cork Key Chain ready to put to use.
4.DIY Painted Garden Rocks:
Pick up flat beach stones or rocks. Using paints and paint the rocks with desired colour and write on it. You can place these in you garden to identify the different plants or flowers in your garden. They can painted in different colours and patterns and be used as decorative items.
5.Paper Cookie Basket:
Try using different colour papers and decorative objects like ribbons,stickers or bows etc., All you have to do is just follow the instructions provided in the picture step by step. The bigger the paper plate the bigger will be your basket. Make sure to stick the sides properly so that it doesn't peel off in between.
6.Wine Bottle Vase: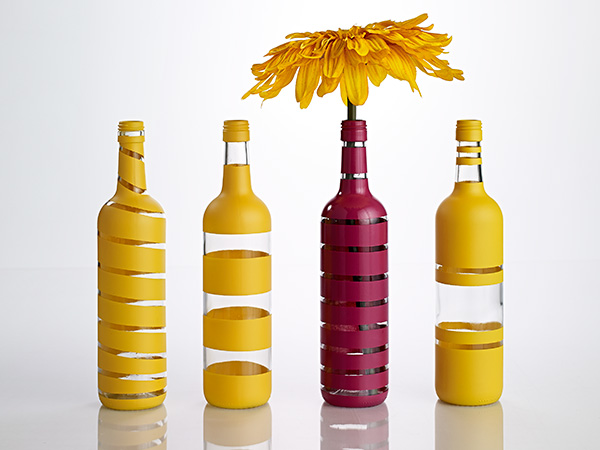 Pick up any old wine bottle. Paint the bottle with your desired colour. You can even use glitter paints or spray glitter on top bottle too. Let it dry and then you can decorate the bottle with a ribbon or yarn or write a message using a permanent marker/paint. Just fill it with water and put it in the flowers and place it at any corner of your house.
7.Light Bulb Vase:
Take an old bulb break off the metal contact from the bottom,using a screw or a knife crack the brown glass insulator.Break off the fill tube and remove it and clean the bulb of any remaining particles or dust with water. But be extra careful while doing it or else you might end up hurting your self or shattering the bulb. Fill it with water and place it on a table or a shelf.
8.Cloth-Pin Planter Or Candle Holder:
Take an old fish can and several cloth-Pins, clip the cloth-Pins all around the rim of the can. Place a plant or candle inside and decorate the planter or the candle holder.