India vs south Africa Series -Man-to Man Analysis of the teams
Shubham Modi:
30-09-2015
The South African cricket team is currently touring India. The tour consists of five One Day International (ODI) and three Twenty20 International (T20I) matches followed by four Test matches. The series will be India's first full home series since November 2014. Well, both the teams have prepared well for this eagerly awaited series between the two top sides, we have tried to do a man-to-man analysis of the ley players to see which team is likely to dominate the series:
Shikhar Dhawan vs Quniten D'kock (The stylish Southpaws)
Dhawan: T20 Avg One Day Avg D'Kock: T20 Avg :28.50 One Day Avg:37.22
Though there can probably never be another Virender Sehwag, Dhawan is arguably one of the fastest improving cricketers internationally. Dhawan had a good run since the world cup. Not that Dhawan minds playing against the Proteas with probably his two best ODI knocks coming against them; a 115 during the Champions Trophy and a magnificent 137 in the world cup.
If Dhawan likes the South Africans Quinton De Kock simply loves the Indians, with 3 consecutive hundreds against the Indians in December Quinton De Kock. Only catch is he has been going through a somewhat iffy form at the international level, though he performed well enough against India to get a recall into the Proteas team.
Both these openers have a wide range of shots, score at a rapid pace and have the ability to find different angles to get their boundaries. De Kock's poor international form and problems with spin as against Dhawan's home advantage and recent form tilts the balance in favour of Dhawan.
Hashim Amla vs Ajinkya Rahane(The Contemporary Conventionals) :
Rahane: T20 Avg:21.00 One Day Avg 31.00 Amla: T20 Avg: 25.46 One Day Avg: 54.30
Even in the shorter form there is still scope and a need for some good old fashioned stability at the top, and oh yes you also have to maintain a strike rate of 120 -130 plus while doing it. Sounds tough, well not for these two gentlemen.
Hashim Amla is a key player at the top who consistently scores big runs for the Proteas. He is one player in the SA team who plays spinners really well.
On the other hand, we have Rahane who has all the techniques and strokes but has failed to create the same impact in the shorter version as he has done in the longer version of the game.
Given their track record, it looks more of an even contest here with neither showing any distinct edge over another.
Virat Kohli vs A b D'villiers (The Pivots)
Kohli: T20 Avg:46.28 One Day Avg:50.66 D'Villiers: T20 Avg: 22.38 One Day Avg:53.27
An aggressive middle-order batsman who likes to take full control of the match, Virat is carrying India's batting flag at the moment. If Virat stays India wins, as simple as that.
If there is one batsman who can single handedly take the game away from India, then its definitely AB Develliers. Mr.360 can tonk balls any side of the park. When he is in flow its just next to impossible to stop him.
Virat has an all-round game and wide range of shots. Kohli s an unstoppable force in the subcontinent. However, A b devillers, at his current form is probably, the greatest batsmen in the world at least in the shorter form of the game. Kohli is not far behind him but is behind nevertheless. We give A B the Edge here.
Rohit Sharma vs Faf Du plesis (Elegance vs Grit)
Sharma: T20 Avg:30.79 One Day Avg:39.2 Du Plesis: T20 Avg:42.36 One Day Avg:37.16
While Mr.Gritty, Du Plessis ensures solidity at top of the order . Many a times Du Plesis has played innings of great determination to pull South Africa out of trouble.
Mr.Talent Rohit Sharma, is just so pleasant so watch and on his day can blunt out any attack. However consistency has been a big concern with his waiting.
Both Rohit and Du Plesis are good batsmen of shorter form and have a range of shots which will be envy of any top order batsmen. The fact that the series will be played in India, and Du Plesis's discomfort with quality spin is well known, Rohit has a slight edge here.
M.S. Dhoni vs J P Duminy (Be Calm and Finish the Job !!!)
Dhoni: T20 Avg:33.96 One Day Avg:52.24 Duminy: T20 Avg:35.75 One Day Avg:39.51
Closing the match seems to require a different a different skill set/mental approach altogether. Talking of finishers, we have world's two best finishers in Dhoni and Duminy.
What makes Duminy special is that he can go up the order, play an innings of consolidation or go berserk in the last few overs and score a quick 30 of 15 balls all with equal ease. Throw in his outstanding fielding and some more than handy off spin to complement Imran Tahir and you realize the amount of balance that JP lends to this South African side.
Dhoni on the other hands is probably the best finisher the game has seen. Not quite the destroyer that he was earlier, Dhoni's role has evolved with time.
In terms of pure hitting ability, Duminy is obviously not in the same league as Dhoni. Duminy has also had his share of issues against spin, but he more than compensates any such shortcomings with his exceptional fielding. Purely on current form, it's even-Stevens between the two.
Raina Vs Miller (The Strikers)
Raina: T20 Avg:32.61 One Day Avg:36.18 Miller: T20 Avg:28.66 One Day Avg:36.35
Raina is undoubtedly the cleanest power hitter in the current Indian line-up. Raina looks a different batsman in the shorter form of the game. Add to that his fielding and his ability to rotate strike and take quick singles and he becomes a valuable resource at number5/6 for his team.
Arguably the purest hitter down the ground in today's game Miller handles spin better than many of his countrymen.A quick runner between the wickets and a brilliant fielder, he can literally change games through brilliance in the field.
In terms of sheer versatility and experience Raina has an edge but dont count Killer Miller out !!
Umesh Yadav Vs Dale Steyn (The Speed Guns)
Yadav: T20: 1 wkt at 8.00/over One Day: 60 wkts at 5.49/over
Steyn: T20: 55 wkts at 6.45/over One Day: 165 wkts at 4.81/over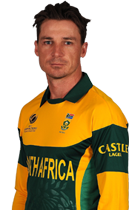 Umesh Yadav, particularly from the world cup has emerged as a different bowler and has shown lots of control and maturity in his bowling. Given his ability to bowl quick he becomes a lethal weapon in limited overs game.
Dale Styn undoubtedly has been among the best fast swing bowlers in the world. Off late however he has gone for runs which was definitely not helped by decreasing size of grounds and unreasonable field restriction rules.
Though in current form the two look quite close to each other, Dale Styn has an edge due his seer experience and his ability to produce match winning spells every now and then.
Ravichandran Aswin Vs Imran Tahir (Finger spinner vs the wrist Spinner)
Aswin: T20: 25 wkts at 7.32/over One Day: 139 wkts at 4.82/over
Tahir: T20: 25 wkts at 6.22/over One Day: 77 wkts at 4.36/over
Aswin is probably at the pick of his form. He has again started getting turns out of most of the wickets and shown great control and variations. His recent for in Srilanka would definitely be a worrying signs for the Proteas.
Tahir has been the mystery spinner for South Africa and adds lots of variety to already potent bowling attack. He has been extremely successful in the limited form of the game off late and is key to South Africa's success in the coming tour.
Aswin and Tahir are completely different styles of bowlers. However, while Indians are good players of Spin, Proteas have shown weakness against quality spin. This and home conditions advantage gives Aswin and Edge over Tahir, even though Tahir has much better overall records in shorter forms of the game.
There isn't much to differentiate when it comes to other players in both the teams and they will be determining which team is more balanced and delivers a complete performance. As we saw above, there isn't much to choose between the two team and the top players match each other man-to-man. While AB and Virat are central to the fortunes of the two teams, the final result actually will be determined by the performace of the likes of Dhawan , Rohit , Duplesis and Amla. As for we Cricket fans there is nothing better than the prospects of a closely fought nail-biting series. May the team that plays well and exploits the conditions better win!