Jakarta Comes under Terror Attack
BBC:
14-01-2016
A series of explosions has rocked the Indonesian capital, Jakarta, with gun battles on the streets.
The blasts were centred around Thamrin Street, a major shopping and business district close to foreign embassies and the United Nations offices.
Police say the situation is now under control, with five suspected attackers among at least seven people killed.
No group has said it was behind the assault but police suspect local militants linked to Islamic State.
Indonesian President Joko Widodo dubbed the attacks an "act of terror".
"We all are grieving for the fallen victims of this incident, but we also condemn the act that has disturbed the security and peace and spread terror among our people," he
Images from Jakarta have shown several bodies lying on the road outside a cafe, as well as seriously injured people being carried away.
Details remain unclear, but at least one of the blasts hit a Starbucks cafe outside the Sarinah shopping centre and next to a police security post.
Eyewitnesses say several attackers entered the cafe and detonated explosives.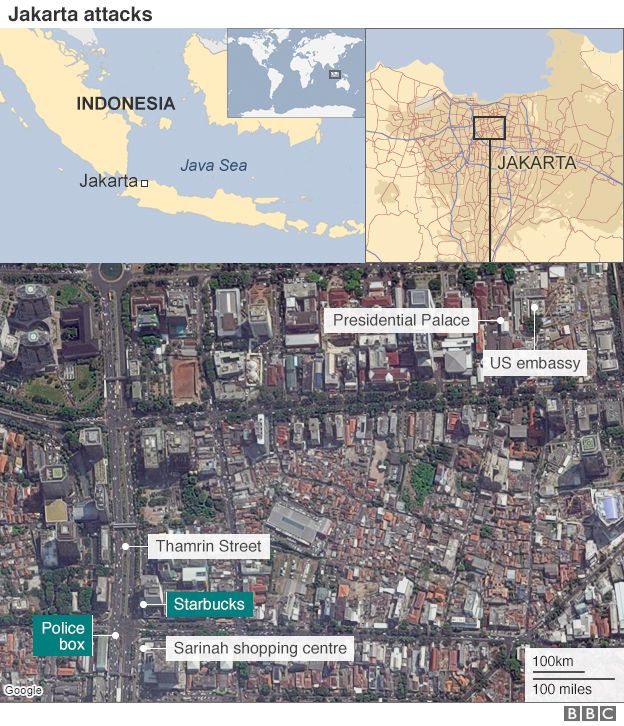 Armed police, snipers and armoured vehicles were deployed on the streets of the capital.
Gunfire broke out after police arrived at the cafe - there were several further explosions and reports of police chasing suspects. Sporadic gunfire was reported for several hours afterwards.
A UN official, Jeremy Douglas, told the BBC he was about 150m (450ft) away from one of the first blasts near the UN's building.
"Then we ran into the building. We heard a third explosion. We got up to our office on the tenth floor and we heard a fourth, a fifth and a sixth."
---
Islamist attacks in Indonesia
Indonesia has suffered militant attacks in the past, but has been relatively successful in curbing home-grown Islamist extremism after a spate of attacks in the last decade. Some of the deadliest include:
July 2009: Seven people killed and dozens wounded when two suicide bombers target Marriott and Ritz Carlton hotels in Jakarta
Oct 2005: Suicide attacks in Bali leave 23 dead, including the bombers
Sept 2004: Bomb outside Australian embassy in Jakarta kills at least nine people
Aug 2003: Bomb at Jakarta's Marriott Hotel kills 12
Oct 2002: Bali bombings kill 202, including 88 Australians
Dec 2000: Church bombings across the country kill 19
A few hours later, police said four attackers had been killed, then shortly after revised the number to five, including a foreigner.
National Police Deputy Chief Commander Gen Budi Gunawan said two had been killed in a shootout outside a theatre and two others blew themselves up at the police post in front of Starbucks.
Police spokesman Col Muhammad Iqbal said the situation was "under control", with no suspects hiding inside the shopping centre.
Police had initially said there could be up to 14 assailants. Three attackers have been arrested, reports say.
Jakarta police have been saying for some time that an attack on Indonesian soil may be just a matter of time, which appear designed to inflict maximum damage.
Although no-one has claimed responsibility for these attacks, in the last few years there have been anywhere between 150-200 Indonesians who it is thought have gone to Syria to fight with IS.
Many have since returned and the police have thought that they might be preparing an attack in Indonesia.
Indonesia is the world's most populous Muslim nation but by and large is secular, although in recent years the threat of radicalism has remained high as small networks of militants are still thought to be operating in the country.
---
Indonesia has been attacked by Islamist militant groups in the past and was on high alert over the new year period after threats from the so-called Islamic State (IS).
National police spokesman Anton Charliyan said while it was not yet clear who carried out the attack, IS had warned of a "concert in Indonesia" which would be international news.
He said the attackers had tried to imitate the co-ordinated attacks on Paris and there was a "strong suspicion that this is an Isis (Islamic State)-linked group in Indonesia".
But chief security minister Luhut Pandjaitan said it was "too early" to talk about IS involvement.
"Five terrorists are dead and we don't know if there are any more. We are investigating," he said.
Republic of Indonesia
Capital: Jakarta
Population 243 million

Area 1.9 million sq km (742,308 sq miles)

Major languages Indonesian, 300 regional languages

Major religion Islam

Life expectancy 68 years (men), 72 years (women)

Currency Rupiah