Migrant crisis: Slovenia to Allow 2,500 Migrants a day
BBC:
19-10-2015
Slovenia will only allow 2,500 migrants to cross its borders daily - half the number neighbour Croatia has asked for.
Interior Ministry Secretary of State Bostjan Sefic said Slovenia could not accept Croatia's request to take 5,000, because Austria's daily limit is 1,500.
Most migrants - many from Afghanistan, Syria and Iraq - are crossing Croatia and Slovenia to reach western Europe.
The limitation on numbers has led to a build-up of migrants and refugees on Croatia's border with Serbia.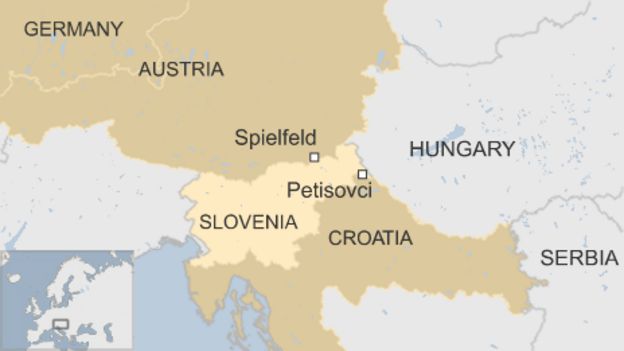 Around 40 buses of people were backed up in Serbia on Sunday, and tempers flared between frustrated migrants and overstretched police officers.
"We are waiting here four hours on the bus," Muhammad Samin from Afghanistan told the Associated Press. "The weather is too cold. We wear lots of shirts. The children are also in the cold. No food."
There are also reported to be 4,000 migrants waiting at a reception centre in the east Croatian town of Opatovac, hoping for an onward journey towards Slovenia.
The migrants have already spent weeks walking from Turkey, via Greece, Macedonia and Serbia.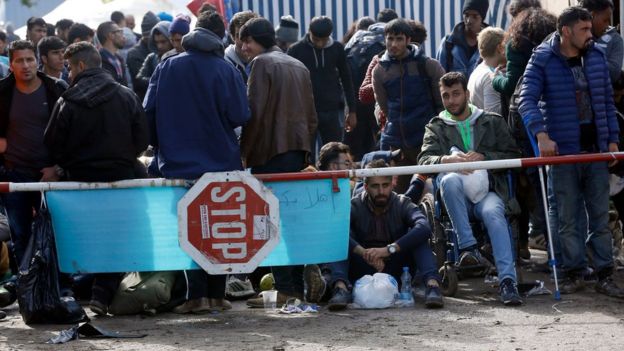 Mr Sefic told a news conference that Slovenia "cannot accept unlimited numbers of migrants if we know that they cannot continue their journey".
"Croatia asked us to accept 5,000 migrants per day, but Austria told us they can accept at maximum 1,500," he said.
He said Slovenia had to turn down a request by Croatia on Sunday to send it a second train of migrants.
The UN's refugee agency says about 4,000 migrants crossed into Slovenia on Saturday. By Sunday morning, Austria said it had allowed through around 1,000 people.
Slovenia became the main route for migrants after Hungary closed its borders to them on Friday night, citing security concerns.