Robert Lewandowski: 5 Goals in 9 Minutes!
BBC:
22-09-2015
Bayern Munich striker Robert Lewandowski stepped off the bench at half-time against Wolfsburg to score five goals in nine minutes during a 5-1 comeback win.
Here's how he scored his five...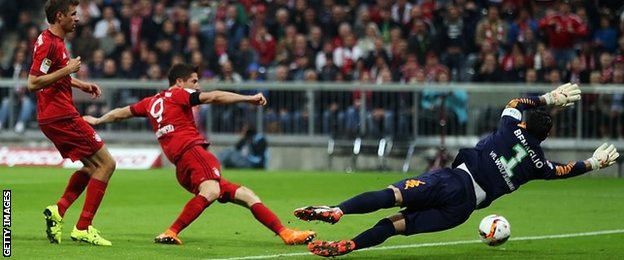 Lewandowski took six minutes to score his opener - sliding home from close range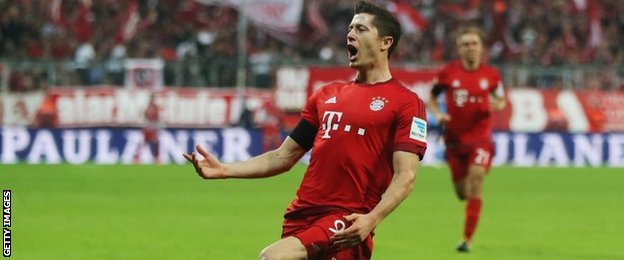 His second came 58 seconds later with a brilliant effort from distance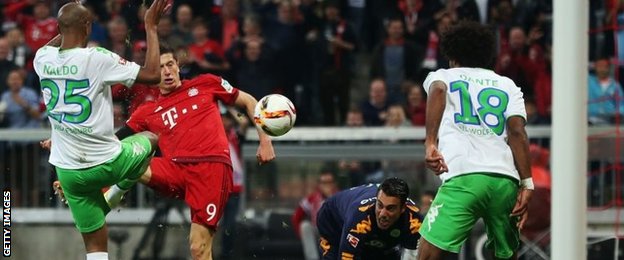 Two minutes later, he took three attempts to score the third - first hitting the post and then forcing a save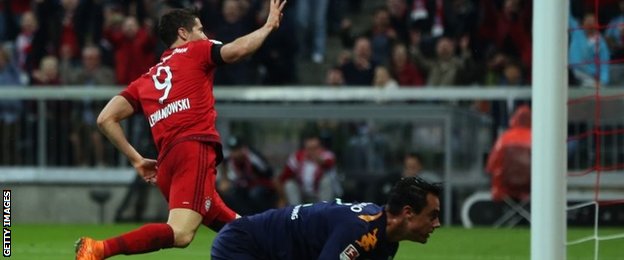 Another two minutes on and he volleyed home a fourth
It took him more than three minutes to add his fifth, with a brilliant acrobatic volley
Lewandowski scored more league goals in nine minutes than...
Liverpool, Newcastle and West Brom have this season
Six of Bayern's Bundesliga rivals have managed
Anyone in the bottom half of La Liga
Seven Serie A sides (league leaders Inter have only matched his nine-minute haul)
Wayne Rooney has in 2015
Mario Balotelli did in his season at Liverpool
Nicklas Bendtner has in over three years
Records fall to devastating Lewandowski
Lewandowski scored the quickest Bundesliga hat-trick (four minutes). Then set a new record for four goals in the same match. And then did likewise for five, too.
He became the first Bundesliga substitute to score more than a hat-trick.
The Pole scored the fastest five-goal haul in a major European league since Opta started recording stats.
He was one short of Dieter Muller's Bundesliga record of six goals in a game, when Cologne beat Werder Bremen 7-2 in 1977.
Lewandowski is the third Bayern player to score five in a game - Gerd Muller did so three times, and Dieter Hoeness once.
Reaction - 'I can't really understand it'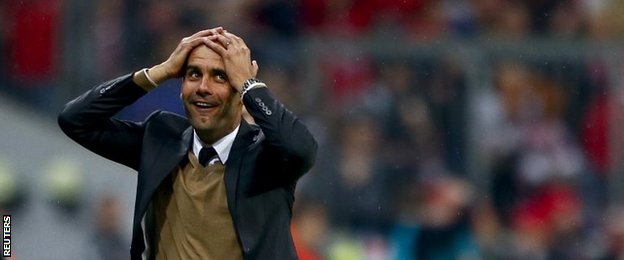 Pep Guardiola has seen a lot in football - but never something like this
Lewandowski said: "This was just crazy. Five goals, that's just unbelievable. I just wanted to shoot and wasn't thinking about what happened afterwards. I am very, very satisfied. This was a great evening for me.
"I look up at the board after the third or fourth goal and I was surprised there was still so much time left to play. The coach did not have to tell me anything. I knew what had to be done."
Boss Pep Guardiola said: "This is something I have never experienced before. Five goals in nine minutes. Robert has been a great player in Germany and the world for some time now.
"I am very happy for Robert. For his confidence and our future this was extremely important.
"I can't really understand it. Five goals. Neither as a coach nor as a player did I ever experience something like this and I can't really explain it. Five goals against Wolfsburg are never easy."
But one man wasn't happy...
Bayern captain Philipp Lahm quipped: "You have to remain critical - Lewandowski could have grabbed seven tonight... he missed two big chances!"
Wolfsburg coach Dieter Hecking mused: "What can I say? A world-class striker shot five times on goal and could have scored seven. That is how it happened."
Social media reaction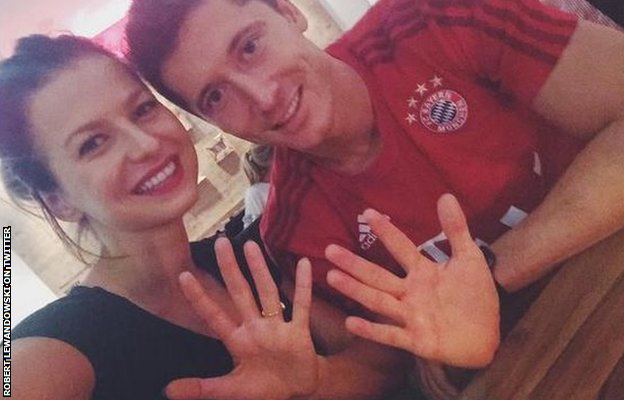 Lewandowski and his wife Anna Stachurska celebrated the five-goal phenomenon after the game