Syrian refugees: Countries that welcome them, Countries that do not
Michael Martinez/CNN:
10-09-2015
he expanding Syrian refugee crisis highlights the differences among countries that welcome desperate migrants and those that don't.Some 4.1 million Syrians are fleeing a homeland riven by more than four years of civil war. Some countries have taken in so many migrants it's caused a population spike, while others have done little or nothing at all.
Here's a country-by-country look at what is being done to address the worst refugee crisis since the Rwandan genocide more than 20 years ago, according to experts.
Which countries take in the Syrian refugees?
Geography explains much of it: Turkey and Syria share a border.
The masses are so vast that 14% of them are sheltered in camps, U.S. figures show.
A staggering share of them are children and teens: More than half are under age 17, according to U.N. figures.
Lebanon: 1.1 million
The influx is so profound in Lebanon that the 1.1 million Syrian refugees mark a 25% increase in the country's 4.4 million population.
Those figures make Lebanon the country with the highest per capita concentration of refugees, the United Nations says. It also shares a border with Syria.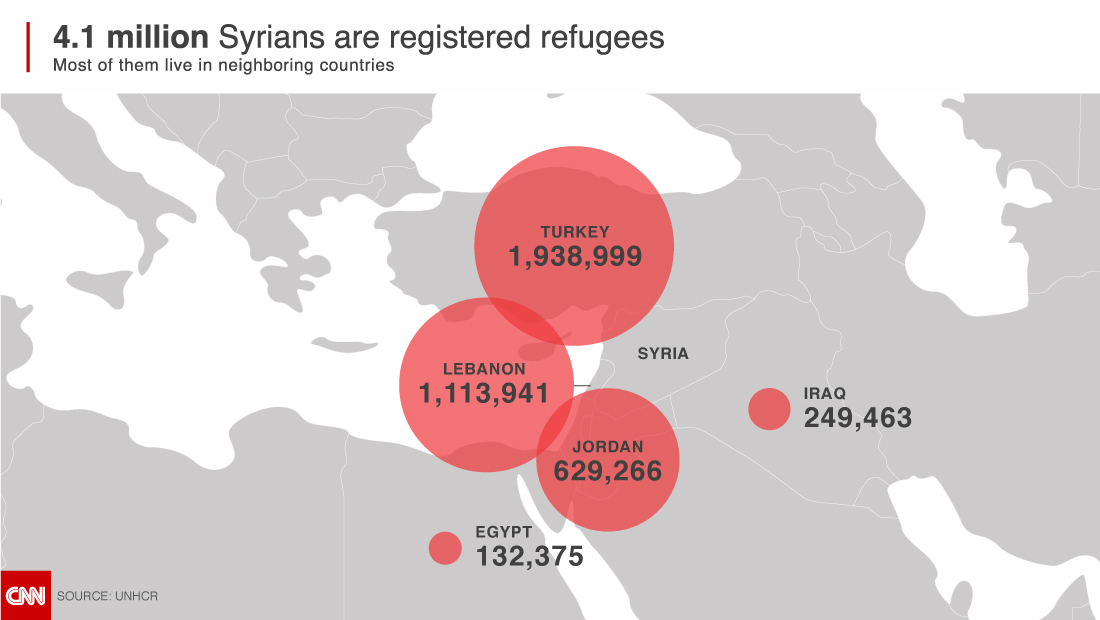 "The influx of a million refugees would be massive in any country. For Lebanon, a small nation beset by internal difficulties, the impact is staggering," U.N. High Commissioner for Refugees Antonio Guterres said last year.
Turkey: 1.9 million
Remarkably, this country now shelters almost half of the Syrian refugees and clearly has more than it can handle.
It's the No. 1 destination for displaced families.
Jordan: 629,000
Jordan provides shelter to a large number of refugees from Syria, Iraq, Somalia and Sudan, but Syrians constitute the majority of Jordan's refugee population, the United Nations says.